This website represents a token of information in order to have a presence on the internet.
Your comments / questions are welcome, just click on the email icon at the top. Thank you.
---
For information on hardware requirements and configuring Windows to allow PACE to run please go to the page "RedEye Computer Works".
Windows 10 (beta) - January 16, 2015
PACE Business Manager works in Windows 10 (beta version)
I do not believe anyone is anticipating moving to Windows 10 but the significance of this is that it puts to rest any notion that PACE will not work in future versions of the Windows operating system.
Windows 7 - Aug 01, 2015
PACE works fine under Windows 7 (32bit), in single station or network environment. The experience is the same as Windows XP. It will display in full screen or a window, whatever you desire. We have migrated many PACE users to this version of Windows.

Printing Solved!
There is an application available that resolves all printing issues. It is called "TaoDos" and is available at http://taosdc.com/. TaoDos will run on Windows: XP, Vista, 7, 8, Terminal Server 2003, 2008. This means:
You no longer need to have a printer that supports DOS emulations (IBM Proprinter Epson FX)
You no longer need a priner with a parallel port connection
You can use any inkjet or laser
You can fully utilize multifunction printers
You can email invoices, statements etc. to your customers
You can fax invoices, statements etc, to your customers
You can print to any printer over the network
Supports printers with any connection (USB, LPT, Network, TCP/IP, Wireless)
You will not have to exit Pace to use fax, email, pdf or whatever. The printing choices will be displayed right on the print dialog box whenever you do a print job.

The good folks at TaoDos have created a patch just for PACE that enables ports: LPT4, LPT5, LPT6. So now you can actually define six printers within PACE. You can also add an unlimited number of printers in TaoDos.
Note: PACE has a programming error that limits the number of defined printers to three ports (LPT1-LPT3), ports LPT4-6 do not work, they will simply redirect a print job to one of the first  three ports.
HST Update - June 23, 2010
A section has been added to the bottom of the Accounting page for Pace users wishing to see how I setup Pace to handle the new HST.
I would appreciate it if those of you who find the information helpful could send me an email so I have a sense if this is has been a worthwhile exercise.
As the privacy policy states, your email and other information is not sold nor shared to anyone period!
WELCOME TO SOLUTIONSBYKNIGHT.com
This site serves (mechanical) automotive repair shops. Service solutions are generally computer-based in the form of spreadsheets, databases, word processors and other applications. My introduction to the automotive repair industry was through providing support for the PACE Business Management system which is one of many computer programs in the Automotive Business Management software category.
What is Automotive Repair Shop Management Software?
The basics of any automotive business software system is generating work orders & invoices and the ability to review customer and vehicle service histories. Modern programs now also include the ability to lookup industry-standard labour times and interact with parts supplier's catalogues. The main purposes for implementing this kind of basic system are to:
increase efficiency in serving customers
timely retrieval of vehicle service history

convey a more professional image 

better office organization 

increase efficiency of data collection for accounting
Management software is more than the above. It addresses (to varying degrees) production, accounting and marketing, the three 'legs' of any business. The main reason for installing this kind of system is for the ability to analyse information to improve your business.
Two critical factors in choosing a management software package are:
the variety of reports available
the ability to export data for analysis (or use) in other applications.
Without the ability to export your data, you become limited in terms of anlaysing your business and are vulnerable to any misfortunes the company that owns your software may experience. The misfortunes of the PACE Business Manager is testament to what I am referring to.  When considering how important it is to access a vehicle/customer's service history the second factor is the most important.
I strongly recommend to not purchase a software package that does not-or cannot-export service history.
Some of the popular Canadian produced systems are:
Lankar Systems - Concord, ON
Protractor Software Inc. - Toronto, ON
Cars Systems Inc. - Mississauga, ON
Costar Computer Systems - Sherwood Park, AB
TSM (Total Shop Manager) - Surrey, BC
Many non-Canadian companies claim that their repair shop software product will work in the Canadian market although my research indicates this is not always the case. This is due to those sellers not being aware of how the Canadian VAT tax system (GST) works. If your shop has a requirement of the software to handle taxes including remittances then you must do appropriate research to determine if the product meets the needs of the Canadian market. Some USA produced systems are:
ProfitBoost - Reno, NV
Auto Repair Boss - McKinney, TX
On-Demand5 - Poway, CA
Star Service - Kenwood, CA
Yes Management System - Bradenton, FL
MaxxTraxx Pro - Carlsbad, CA
Shop Controller - Mesa, AZ
The once dominant shop management software (in Canada) was the PACE Business Manager then owned by the Ontario company of the same name and is currently owned by Activant Solutions Inc., in California. This DOS-based automotive software is still widely used today and offers all the management features listed above.
First off, I would like to apologize to everyone for having taken so long to post these instructions. I originally took the tact of investigating every aspect of how implementing the HST would impact the typical shop.
I put in a lot of work corresponding to authorities and "experts" and had to delay putting up this page until I attended one of the government sponsored seminars in June. The end result was more than a few conflicting opinions including those at the government seminars.
Recently I decided to abandon this great big essay and just concentrate on showing people how to make the changes in Pace. Therefore I will leave it to you to consult with your accountant for the technicalities and legalities of what to charge whom, for what, and when.
You are advised to read the "Terms Of Use" page of this website. Essentially, I am offering this information without any guarantee or promises - it's free after all. Here is what I discovered from doing many experiments:
after making the changes you will need to update every workorder (in Work In Progress) to effect the changes. This can be accomplished by editing a job or part, or, the easiest way I found is to simply select "Options" | "Supplies" and press [Enter] - see the bottom of this article for a screen shot.

it appears that the federal tax rate does not change in the supplier account for a part that was initially added at 5% - this is good.

the customer is immediately charged at the new HST rate - this is good.

you will need to get all (parts) supplier invoices that have the 5% GST entered before making the changes - hurry hurry.
You will need exclusive mode if you are on a network
Navigate to Software Maintenance | Select Accounting Settings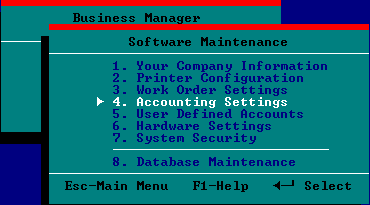 1. How to change the label on the invoices from "GST" to HST"
Change the field "Federal Tax Label"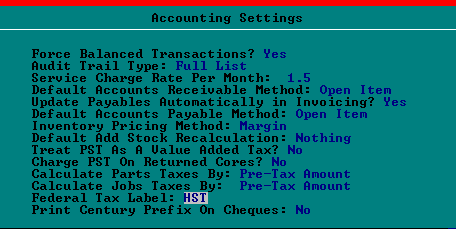 Navigate to Work Order Settings | Select Labour Rates & Costs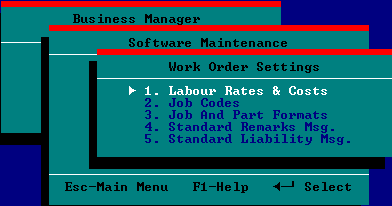 2. Remove PST from Shop Supplies
Change field "PST Taxable"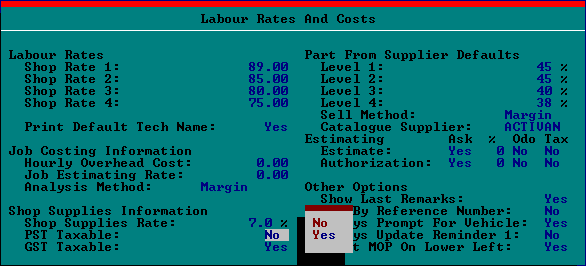 Navigate to Work Order Settings | Select Job And Part Formats
3. Set the new rates, turn off PST
Note: Make sure you do both sides ( "Jobs" on the left and "Parts" on the right )
Change the following fields with values according to your province:
"Federal Tax"
"Federal Tax Rate"
"Prov/State Tax"
"Prov/State Tax Rate"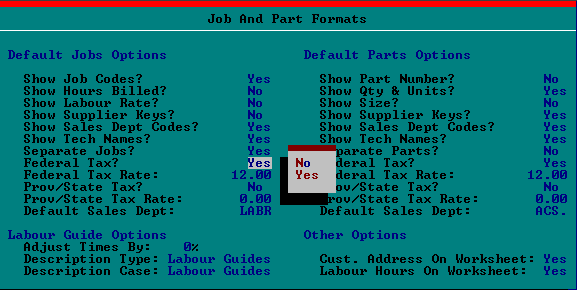 You're done with settings
Now you need to update every work order in Work In Progress. This is the easiest way I found. Just press [Enter] on "Supplies", no need to change anything.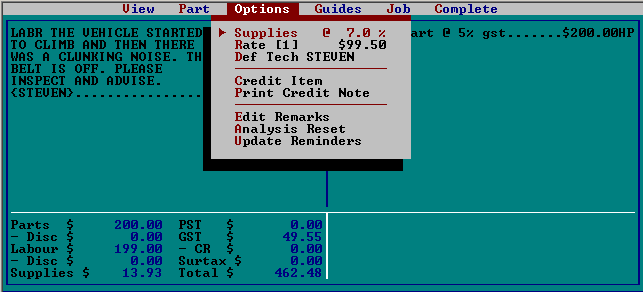 You're done!